Quick Manufacturing is one of eVSM's Quick Stencils and supports plant level mapping of discrete parts and assemblies in industries like automotive, electro-mechanical, and medical equipment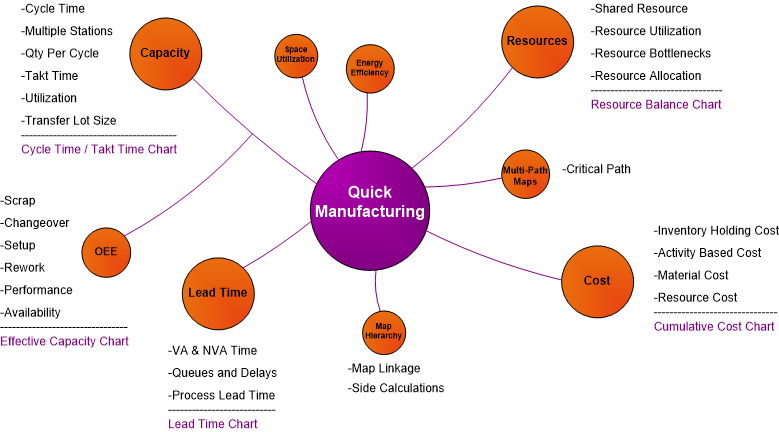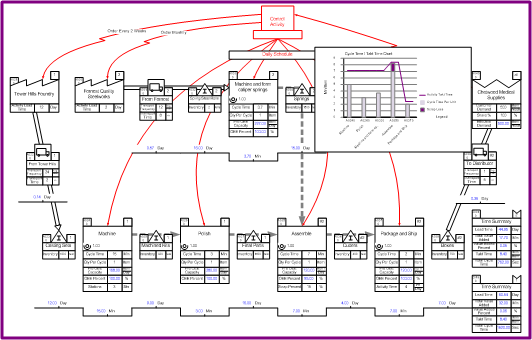 Ex 1: Modeling downtime
The mold handles station experiences an unplanned downtime of 20%. Can you still meet customer demand?
Ex 2: Shared resources across value streams
Management is considering sharing the Sharpen station with another value stream for two hours per day. What would your recommendation to management be?
Ex 3: OEE (Overall Equipment Effectiveness)
1. The mold machine has been measured as being able to make 1100 good scissors per day. Calculate its OEE.
2. In the absence of "good parts" measurements, set the OEE for all other equipment to 85%. Check the resulting capacity and see if customer demand can be met.
Ex 4: Stations
The Sharpen activity actually has two stations, each with the data shown on the map. Correct the map and compare cycle time per item to take time for that activity.
Ex 5: Changeover
The product family consists of four sizes of scissors, necessitating changeovers at the Mold Handles activity. Each changeover takes 60 minutes. Is there adequate capacity on the Mold Handles activity to meet demand for each scissor size every day?
Ex 6: Activity Time
It's been decided that overtime will be used to avoid the bottleneck at the Sharpen activity. How many hours of overtime would you recommend authorizing? Is there sufficient inventory buffer in front of sharpening to allow this?
Ex 7: Lead Time
A system of more frequent supplier and customer deliveries has been recommended (once daily) with an inventory of two days at raw materials and finished goods, and a max WIP at any position of half a day. How will this improve lead times?
Ex 8: Scrap
An inspection as part of the Assemble activity indicates 10% scrap at this point. Is there still enough capacity to meet customer demand?
Ex 9: Cost
1. The cost of blanks at Atlas is $5 per item. Mold Handles add $2.50, Sharpen adds $1, Assemble adds $0.5, and Make Box adds $0.05. Each of the transport legs adds $0.2 per item. Calculate and visualize the added cost and cumulative cost through the value stream.
2. You want to estimate the annual carrying cost of the inventory in the plant. You know that the Cost of Capital is 8%, Inventory Obsolescence is 1%, and Inventory Insurance is 1%. How much would you save annually in carrying costs if you reduced the finished goods inventory to 3000 items in conjunction with more frequent customer deliveries?